Soft Seventeen In Black Jack



Learn which kind of card combination that is in the game.
A Soft Seventeen in Black Jack is an Ace plus any combination of a six, which, because of the Ace, adds up to Seven or Seventeen. Remember, the Ace counts for one or eleven in Black Jack.



Examples: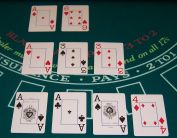 An Ace plus a Six.
An Ace plus a Four and a Two.
An Ace plus a pair of threes.
Two Aces plus a Five.
Three Aces plus a Four.
Four Aces plus a Three.
Five Aces plus a Two.
Seven Aces and so on....


But when you add a Ten or a Face Card to an Ace and a Six, it becomes a Hard Seventeen. It is the same thing, when you add any Ten value card to an Ace and a Four and a Two and so on. They all become Hard Seventeens.
Soft Seventeen to Casino Gambling Instructor
From Soft_Seventeen Page to Black Jack